CULTURAL BOYCOTT OF ISRAEL RECORD SHEET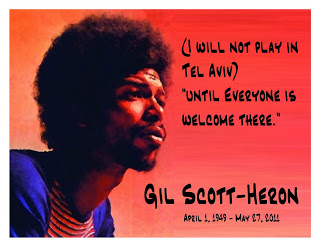 The following are just a few notable developments in the cultural boycott of Israel over recent months*:
•
Musicians including Carlos Santana, Gil Scott-Heron and Elvis Costello have cancelled their concerts in Israel.
- The legendary Costello called his decision to cancel his two summer performances in Israel "a matter of instinct and conscience." [1]
•
Several groups have also withdrawn their performances in Israel, including: The Pixies, Massive Attack, Faithless, Gorillaz Sound System and the Klaxxons.


- Front man of Faithless, Maxi Jazz, compassionately wrote to his fans: "While human beings are being wilfully denied not just their rights but their needs for their children and grandparents and themselves, I feel deeply that I should not be sending even tacit signals that this is either 'normal' or 'ok'. It's neither and I cannot support it." [2]
- Del Naja of Massive Attack has explained his active support for the Boycott, Divestment and Sanctions movement: "I think musicians have a major role to play […] The boycott is not an action of aggression towards the Israeli people…it's towards the government and its policies. Everyone needs to be reminded of this because it's very easy to be accused of being anti-Semitic, and that's not what this is about." [3]
•
Hollywood actors Meg Ryan and Dustin Hoffman cancelled plans to attend the Jerusalem Film Festival following Israel's raid on the Gaza-bound humanitarian aid flotilla that left nine dead. [4]
•
In late 2009, Harry Belafonte, Danny Glover and director John Greyson, together with over 1000 cultural workers, supported the Toronto Declaration: "No celebration of occupation!" The declaration came in support of Greyson's withdrawal from a film festival that had a "spotlight on Tel-Aviv." [5]
•
British writer and director, Mike Leigh, refused to teach at the Israeli Sam Spiegel Film & Television School, noting the insanity of "the ongoing criminal blockade of Gaza, not to mention the endless shooting of innocent people." [6]
•
Significantly, prominent Israeli directors, performers and writers have also taken a boycott position.
- In a recent refusal to perform in one of Israel's illegal settlements (the settlement of Ariel) they stated: "Ariel is in occupied territory and no Israeli artist should have to take part in a production in occupied territory, not in Ariel nor in any other settlement when it is against international law." [7]
- The Israeli actors' boycott was backed by authors Amos Oz, David Grossman, A.B. Yehoshua and Sami Michael, as well as sculptor and architect Dani Caravan. [8]
•
In what was described as a watershed moment in BDS history, over 150 Irish creative and performing artists initiated the first nationwide cultural boycott pledge against Israel. [9]
•
In February 2010, 500 artists in Montreal, including filmmakers, musicians, dancers, poets, authors and painters, also joined the international boycott through a joint public statement. [10]
• In June 2010 American folk-singer, Devendra Banhart, cancelled scheduled performances in Tel Aviv. In a statement on their website, Banhart's group said:
"Unfortunately, we tried to make it clear that we were coming to share a human and not a political message but it seems that we are being used to support views that are not our own." [11]
•
In September 2010, More than 100 Norwegian artists and academics publicly lent their support to the call for boycotting Israel. [12]
•
In October 2010, Nobel-Prize winner, Archbishop Emeritus Desmond Tutu, backed the public call on a South African group (the Cape Town Opera) to cancel their scheduled performance in Israel. He passionately appealed:
"Just as we said during apartheid that it was inappropriate for international artists to perform in South Africa in a society founded on discriminatory laws and racial exclusivity, so it would be wrong for Cape Town Opera to perform in Israel. The Tel Aviv Opera House is state sponsored. By luring international artists to perform there, it advances Israel's fallacious claim to being a "civilized democracy". [13]

The campaign calling on the CTO to cancel its tour received much support within South Africa, including backing from the recent SA Civil Society Conference (comprising over 300 delegates from 56 mass-based civil society organisations - including COSATU and the TAC). [14]
•
Subsequent to Tutu's call, on 1 November 2010 the South African cultural boycott of Israel declaration, 'South African Artists Against Apartheid', was launched. The declaration was fully endorsed by the Creative Workers Union of South Africa (CWUSA).
• In November 2010, the British band Tindersticks cancelled their performance in Tel-Aviv, releasing the following statement:
"When agreeing to play our music in Israel we, perhaps naively, believed that the music we make is beyond political considerations. Over the past weeks, the pressure exerted on us by people and organisations, some close to us, has shown us that this is not the case. It is difficult to defy a rapidly growing movement with whose aims we agree, even if we are not wholly convinced by their methods." [15]

• In January 2011 French singer and actress, Vanessa Paradis, cancelled her scheduled February performance in Tel Aviv after receiving letters from pro-boycott groups within Israel. A letter from Boycott from Within stated:

"[D]espite international law, Israel is free of punishment… discriminating against its Arab citizens. Due to this situation, BDS calls upon French singer Vanessa Paradis to cancel her performance in Israel, for as long as this country doesn't work to change its policy."

• In February 2011, folk music legend Pete Seeger officially endorsed the Boycott, Divestment and Sanctions (BDS) against Israel based on his refusal to be a part of "greenwashing" and "whitewashing" initiatives that use culture to "rebrand Israel". Seeger's support of the cultural boycott movement came after his participation in an online environmental initiative that he later realised was part of a "greenwashing" initiative by the Israeli Arava Institute. As Seeger explained:

"I appeared on that virtual rally because for many years I've felt that people should talk with people they disagree with. But it ended up looking like I supported the Jewish National Fund...Now that I know more, I support the BDS movement as much as I can." [16]
---
[1] www.elviscostello.com/news/it-is-after-considerable-contemplation/44
[2] www.maxijazz.co.uk/Welcome.htm
[3] www.newstatesman.com/music/2010/09/israel-interview-boycott-naja
[4] www.guardian.co.uk/film/2010/jul/07/meg-ryan-dustin-hoffman-jerusalem-film-festival
[5] www.torontodeclaration.blogspot.com
[6] www.bbc.co.uk/news/entertainment-arts-11566956
[7] www.middle-east-online.com/english/?id=40921
[8] http://www.jpost.com/Israel/Article.aspx?id=186517
[9] www.ipsc.ie/pledge/
[10] www.tadamon.ca/post/5824#
[11] http://www.devendrabanhart.com/news
[12] www.akulbi.net/index_en.php
[13] www.sowetanlive.co.za/news/2010/10/27/tutu-urges-group-to-call-off-israel-tour
[14] www.southafricanartistsagainstapartheid.com/2010/11/declaration-of-civil-society-conference.html
[15] http://www.tindersticks.co.uk/
[16] http://adalahny.org/press-releases-other/folk-music-legend-pete-seeger-endorses-boycott-of-israel
* This record sheet is regularly updated on this website.